University UHNW Alumni Rankings Special Report
21 February 2013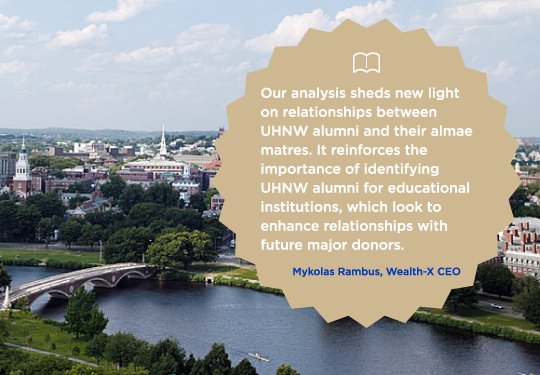 Wealth-X has released its University UHNW Alumni Rankings Special Report, which identifies global universities that have the highest UHNW alumni population.
The Global Wealth-X League Table is dominated by American universities, which constitute 85% of the top 20. Only 3 out of the global top 20 are non-US universities.
Gender representation sees MIT with the highest percentage of male UHNW alumni at 98%. Northwestern University has the highest percentage of female UHNW alumni at 15%.

Commenting on the report, David. S Friedman, Wealth-X President, noted "American universities dominate the rankings largely because these prestigious institutions have been able to attract global talent. As the report shows, most of the UHNW alumni have self-made fortunes, underscoring how these institutions have served as a launching pads for many of the world's most successful entrepreneurs and companies."